Nicola Sturgeon has declared Ireland and Scotland allies in the Brexit negotiations.
The Scottish First Minister told an audience of business leaders in Dublin that she will argue for the Irish border to remain open in the wake of the UK's split from Europe.
She also said the Republic and Scotland are united on virtually every issue of substance relating to Brexit.
After talks with Irish Taoiseach Leo Varadkar, Ms Sturgeon told an audience of about 1,500 business figures that staying in the European single market and the customs union is the obvious answer to the negotiations.
"The fact that the UK Government is committed to leaving the EU means that Scotland – like Ireland, and like Northern Ireland – now faces a dilemma which is not of our choosing. We want to remain a full member of the EU but face being taken out against our will," she said.
"We deeply regret that. However, we believe that if the UK is determined to leave the European Union, it should remain a member of the single market and the customs union.
"In my view, that is the obvious compromise solution. It's democratically justified – the vote to leave was a very narrow one across the UK and two of the four nations of the UK chose to remain."
Ms Sturgeon's talks with the Taoiseach focused on Brexit.
In her speech to the Dublin Chamber, she also disputed Prime Minister Theresa May's remarks in Florence last week and claimed that in Scotland many people have felt absolutely at home in Europe.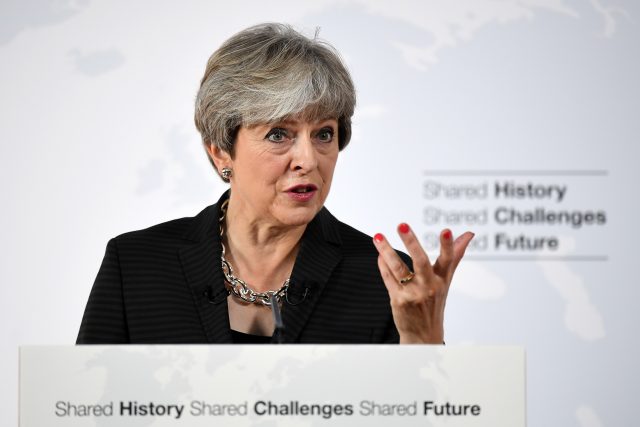 She also emphasised the social and economic links between Scotland and Ireland, and noted the shared interest in ensuring the growth of a global economy is matched by a focus on inclusion.
Ms Sturgeon said leaving the single market will be deeply damaging for Scotland's businesses, universities, trade and jobs.
"On virtually every issue of substance relating to Brexit, the Irish Government – and the Irish business community as a whole – has an ally in Scotland," the First Minister said.
"Like you, we didn't want Brexit. Like you, we support single market and customs union membership.
"And, like you, we know that Ireland's circumstances require particular attention and we will argue strongly for an open border.
"We believe that those positions are in the best interests of Scotland, of Ireland, and of everybody on these islands."